Chilli Cool, King's Cross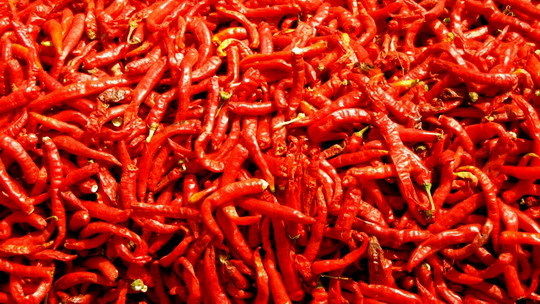 I have officially been bitten by the Sichuan bug. Less than a week after my visit to Ba Shan I found myself suggesting a trip to Chilli Cool to some friends to quell my new found cravings for chilli, peppercorns and pork…
Having heard great things about Chilli Cool from various people including the lovely Helen at Food Stories who voted it her joint favourite restaurant in London last week, it wasn't difficult to round up an eager table of four fellow diners and make our way to this unobtrusive part of King's Cross in search of Sichuan spice.
Luckily we'd been previously warned about the slippery floor and made it to our well sized table without incident. Navigating the immensely detailed menu required as much skill so we didn't miss anything. Some of our party weren't feeling very fishy, so we skipped past those dishes and focused on the extensive vegetable dishes and the great selection of meat. I've heard great things about the crispy fried pig's intestine here and I was game to try it, but sadly not even the Southerner at the table would join in and it seemed silly to order just for me.
After some deliberation we decided on Gong hao chilli chicken with peanuts, mini-lamb skewers fried with chilli & chilli powder and quick fried chicken with cumin & chilli as our main dishes. We then went to town with smaller side dishes and ordered Sea Spicy Aubergine with Minced Pork for depth, Crushed Cucumber with garlic for cooling, two portions of that Sichuan classic of Dan Dan Noodles for slurping and some steamed rice for soaking up every last drop! (We also requested some dry fried green beans, but these didn't materialise…)
The food arrived promptly and soon the table was groaning under the weight of so many stunning looking dishes. The meat dishes glistened with shiny jewel-like chillis while the vegetable dishes looked fresh and succulent in the extreme. It was hard to know where to start…
I decided to take a the plunge and get stuck into the aubergine. These are one of my least favourite vegetables, usually looking much better than they taste. I figured the addition of pork could only improve them and decided to give it a try. My courage was more than rewarded; they were rich and sweet and gloriously sticky with a depth of flavour I couldn't believe. I'd have been happy with just this dish and some steamed rice for my meal!
But not wanting to hog the dish completely, I turned my attentions to the mini lamb skewers. Tiny bite sized pieces of seared lamb shot through with chilli peppers and coated in chilli powder, these were tender and delectably meaty with a lovely chilli kick. Both the chicken dishes were equally good. The cumin chicken had a slightly sticky coating as if had been fried in cornflour to allow the spices to adhere better. The peanuts in both dishes were young and tender with the skins and bore very little resemblence to the salty, crunchy things we usually think of as a peanut.
The supposedly cooling cucumber salad actually packed quite a hefty chilli spiked punch, but was deliciously crunchy and refreshing all the same. Everything was excellent until we got to the Dan Dan Noodles. I forgot to photograph them until I'd already slurped onto my plate, but they came with a meagre amount of mustard greens and only a dusting of minced pork. Compared to the other rich complicated flavours on the table, they seemed rather one dimensional and slightly overpowered by the floral notes of spicy Sichuan pepper above all else. Ultimately they were disappointing and we eschewed them in favour of the other excellent dishes.
Apart from the mediocre noodles, we ate well and we ate lots. There were a few forlorn pieces of lamb and cumin chicken left that I couldn't resist sneaking with my chopsticks while we drained another few pots of tea and caught up on the chat that had been lacking while we were feeding our faces with glee! The staff were happy to let us sit for a while after we finished eating, despite the restaurant being pretty busy.
There was just one more happy surprise in store before we left and that was the bill. Once we'd established that the elusive green beans weren't on it, our whole feast including tea and tip came to £70 or a most reasonable £14 each. For food this fresh, tasty and abundant in quantity, I think this is beyond good value. I can see why everyone who eats at Chilli Cool raves about it! I'll definitely be back as soon as possible, hopefully with someone willing to try the crispy intestine…
https://www.northsouthfood.com/wp-content/uploads/2022/01/2014-North-South-star-logo-remix-final-master.png
0
0
Miss South
https://www.northsouthfood.com/wp-content/uploads/2022/01/2014-North-South-star-logo-remix-final-master.png
Miss South
2010-06-17 12:00:01
2010-06-17 12:11:05
Chilli Cool, King's Cross