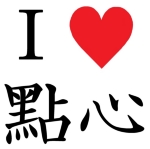 I seem to have got out of the way of meeting friends for tea and cake once a week and developed an obsession with Asian food and jasmine tea instead. After whetting my appetite at Pacific Plaza the other week, I've been craving dim sum daily. Eventually I gave in to these urges and went to visit the highly esteemed Royal China on Queensway for some of the best dumplings in town.
I have wanted to eat here for probably the whole nine years I've been in London, always having heard it referred to in reverential tones of wonder about the food. I was ridiculously excited to finally get the chance to try it out. I was immediately happy with the cool, quiet interior and unobtrusive service. We ordered jasmine tea and fell on the menu enthusiastically to make our selection.
From the specials menu we couldn't resist shredded roast duck with preserved veg along with the pumpkin and prawn in bean curd skin. Both looked full of rich flavours and colours and the bean curd skin was something unusual that we hadn't tried before.
However we couldn't resist a classic on the full menu in the shape of the roast pork puffs, highly recommended by my friend A who has been eating at Royal China since she was a child. Other delights from the full menu included glutinous rice in lotus leaves, pork and radish dumpling, turnip cake, yam paste with dried meat and beef cheung fun along with some crispy fried noodles. We were undecided about a few other dishes, but figured we could always order more if we needed!
Our roast pork puffs were first up and like many Chinese pork dishes, they enhanced the natural sweetness of the meat with a light slightly sugared flaky casing, almost like a Danish pastry, if a Danish pastry was filled with sweet juicy pork! They were light, flavoursome and set an excellent barometer for the rest of the meal.
The specials followed next. The prawn and pumpkin in bean curd skin was delicious with a light wrapper similar to egg in taste and texture and well filled with some plump prawns and sweet succulent pumpkin. The roast duck rolls were well filled with duck that tasted definitely of  roasted duck, rather than the insipid fatty brown meat that passes for duck so often these days. The vegetables added freshness and they were topped by slightly tart goji berries that worked well with the rich meat.
The turnip cake and yam paste dumplings were great specimens of these dim sum classics, piping hot, with plenty of flavour and just the right ratio of chewy dried meat to soft outer. The glutinous rice was filled with glistening rich nuggets of pork and gravy like sauce when we opened the beautifully invitingly wrapped parcels. The crispy noodles were gorgeously crunchy, well topped with a good mixture of vegetables and had good flavour without resorting to gloopy sauces or MSG.
My standout dish however was the beef cheung fun. I had never heard of this dish before and was instantly intrigued when E and A told me it was like a Chinese cannelloni. We went for beef as we had ordered quite a few other pork dishes and didn't want to overload ourselves on porcine goodness, and the ground mince-like texture of the beef was just right with the wide slurpy noodles. I love cannelloni, but often find them rather heavy, so these lighter, less overly stuffed rice noodle versions were perfect as they slithered down so easily. I could definitely have gone for a second portion of these toothsome little numbers, even if I couldn't manage to eat them without making a total mess of both me and the tablecloth…
We finished our main course with some slightly delayed pork and radish dumplings, which the staff seemed somewhat surprised that we still wanted after clearing our other dishes so heartily. They were worth the wait, light outers stuffed full of soft pork and crisp radish that packed just enough peppery punch to cleanse the palate nicely at the end of an excellent main course.
I felt extremely replete after our dim sum feast until the magic words custard and tart were mentioned and I found myself enthusiastically agreeing to both some egg tarts and some custard buns to round off the meal. And I'm very glad I did! The bite sized egg tarts were like a less flaky, less sweet version of Portuguese pasteis de nata and utterly delicious.
The custard buns meanwhile might be my new favourite thing in the whole wide world…the same soft sticky dumpling as char siu buns, but with warm custard inside. This might be the first time I've been more excited that something doesn't have pork inside. These are soft squidgy dumpling-y heaven and something I will be finishing many more dim sum meals with and stopping at Chinese bakeries for as often my waistband will allow!
We were also given a sample of cold barley soup from the specials menu to try with our desserts and it was suprisingly good. The dark rich broth was spiked with ginger and clove and was deliciously refreshing while the barley was like little nuggets of flavour having absorbed so much of the broth. I would definitely have this again on a hot day as it was very refreshing and I find it hard to resist the chewy nuttiness of barley, sweet or savoury.
I was most impressed by my long awaited meal at Royal China. Excellent food, good service, perfect dining companions and a generally enjoyable ambience. A surprisingly small bill was the icing on the cake; everything including almost unlimited jasmine tea and a tip came to a mere £48, making these top quality for reasonable prices. I certainly won't be leaving it another nine years before I eat here again!
https://www.northsouthfood.com/wp-content/uploads/2022/01/2014-North-South-star-logo-remix-final-master.png
0
0
Miss South
https://www.northsouthfood.com/wp-content/uploads/2022/01/2014-North-South-star-logo-remix-final-master.png
Miss South
2010-07-15 11:22:41
2010-07-15 11:22:41
Royal China, Queensway